Definition of Software-as-a-Service:
Cloud computing changing the way in which software is developed and delivered to customers. The data of users are stored on cloud servers and vendors are able to upgrade their product without the need of requiring the customer to upgrade software. When the custom-made software is developed, the core product is then sold to the customer. SaaS programs tend to be available on a subscription model. When working with SaaS providers, you will get technical support updates, as well as subscriptions which allows you to cancel at any time.
SaaS companies success completely depends on acquiring and keeping users in your product. So, use your product to acquire, retain and grow your customer base. As the SaaS business model depends on personalized in-product customer experience. It requires a deep understanding and ability to influence user behaviors inside into your product. Also, it requires a product-led go-to-market strategy that guides marketing, sales, customer success and product teams to put customers in front.
Digital transformations have bought all businesses online, the SaaS businesses are already digital and service based, they now need to prioritize the customer experience to succeed. Digital transformations make it possible for companies that experience and more efficiently and effectively engage users and customers in the product. Word of bad customer experience leads Software-as-a-service company on a downward spiral. But, meaningful and memorable customer experiences can rapidly lead to growth and market domination. For that reason, the growing number of SaaS companies offer self-service freemium products and free trials. So, the customer can explore, navigate and actually use the product. And that every department and process across the organization with the fuel needed to deliver personalized in-product customer experience.
Customer Acquisition Model:
The subscription economy provides an immediate option to signup for a product freemium or free trial. Allowing prospects to try a product improves the buying experience and provide SaaS companies with relevant behavioral data that helps them personalize that experience.
Tips to Create successful SaaS Business in the Industry:
1. Follow KISS(Keep it Simple, Stupid):
SaaS products are often self-served and need to be self-explanatory, simple, clean and highly intuitive.
2. Offer Several Packages:
The entry point of SaaS offering should be free, but limited in usage volume, functionality and/or time.
3. Define, Analyse & Control:
In their actions, SaaS users share invaluable information about their use of products and their needs and behavior. Data reveals what functionalities are popular or aren't being used and also helps to segment users and define packages. It is important to define a test(A/B testing) and monitor the effective improvement after making changes.
4. Be committed to Customer Success:
Professional services increase revenue and stickiness and reduce the churn rate. It increases deployment time and cost of sales and reduces the margin. The main goal of the SaaS company is to defend and grow its recurring revenue from existing customers. To achieve this, customer success team needs to continuously monitor their customer usage levels, send them product updates and satisfaction surveys and invite them to customer advisory board session among other things. The customer success team should be trained and capable of selling.
5. Monitor your Dashboard:
SaaS companies continually should monitor the Key Performance Indicator(KPIs). The most important measurement are monthly recurring revenue, churn rate, cash flow, customer acquisition cost ratio, customer lifetime value etc.,
6. Growth is King:
For SaaS companies with typical gross margins of greater than 70 percent, valuation mainly depends on annual growth rate. The average SaaS company is growing at about 25 percent per year is generally valued at around four to five times its forward revenue. The clear message is: If you have the means to do it, you should invest heavily in growth.
7. Show a Path to Profitability:
Good SaaS companies must show a path to profitability - essentially prove the business model is fundamentally sound( per KPIs above) and that they plan to be profitable in the next one or two years or at least can do so while maintaining at or above average growth rate.
SaaS Marketing:
SaaS marketing is a complicated process. The user learns about, signup for, and uses the product all in the same domain which gives us a lot of data about how they interact with our content and services. Identifying the key actions that need to be taken or key pages that need to be seen to get the most out of the program will help identify bottlenecks in usage. If you have determined the product-market fit, then you are ready to start marketing,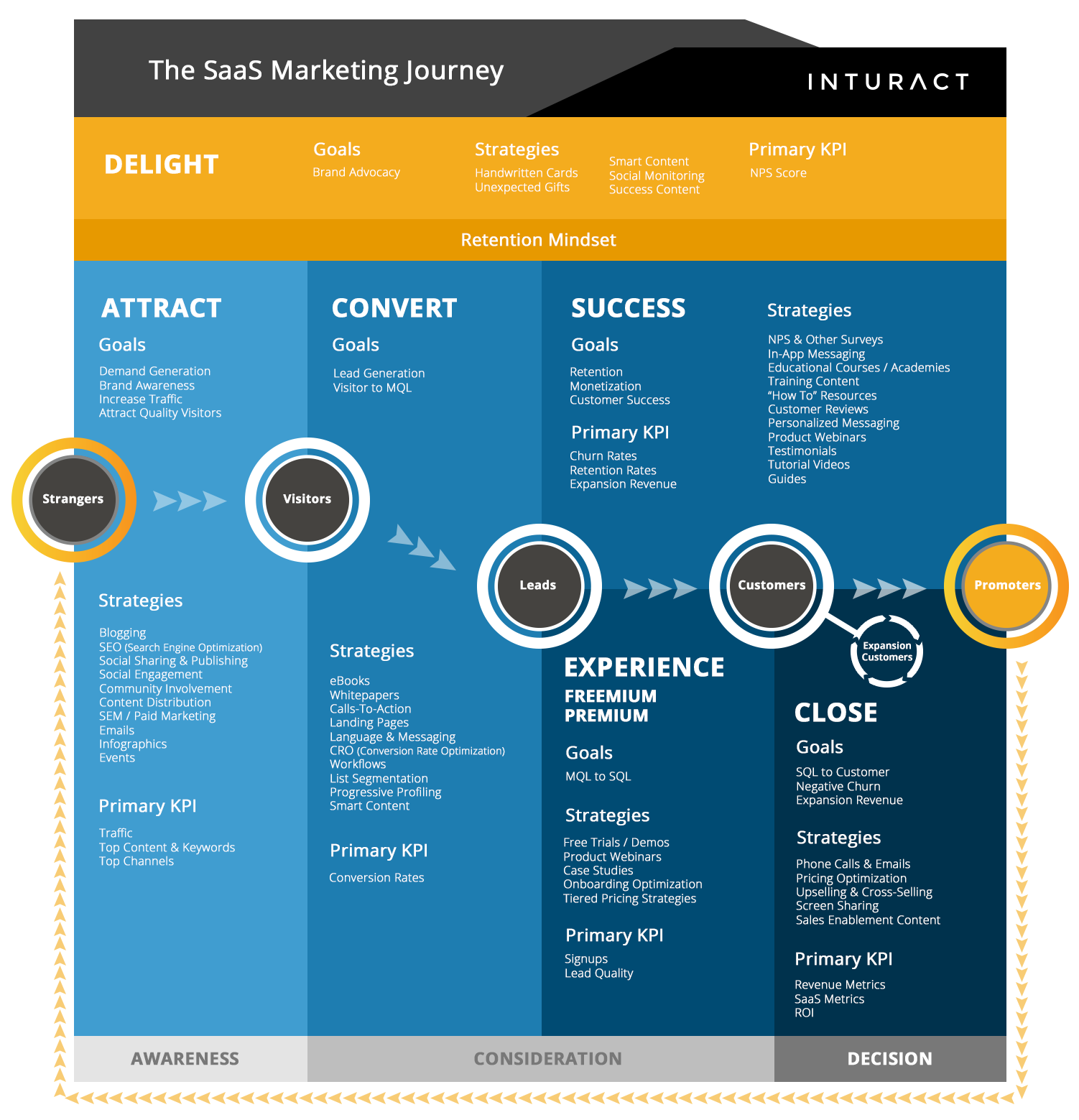 Organize the Buying Journey:
When companies use customer lifecycle framework rather than product life cycle, they can reevaluate their own process to ensure that organizational goals are aligned with customer needs and expectations. These in-product behaviors deliver a relevant experience to each user, which helps acquire, retain and grow the customer base.
Ideas to Try for your Business Growth and Retention:
Every new idea for boosting the customer growth and retention should be feasible with the resources you have, it is not always strategic to pull them off core functions to work on the latest growth idea. There's still room for low cost, easy to implement techniques to improve the growth and retention of your SaaS Product.
1. Call the New Prospects When they Sign Up:
If you are a B2B SaaS startup, you need to be calling all your free trial signups immediately. Every phone call is an opportunity for customer development. Because that person went through your marketing funnel, you will get feedback on whether your website is performing well. The insights you learn from these calls can be turned directly into hypotheses for experiments to run on your SaaS onboarding funnel.
Customer journey consists of online and offline interactions. Digital touchpoints can happen outside of a product or in-product. SaaS companies focus on customer journey and interactions outside of their product to free trials and signups that focus on in-product customer journeys.
2. Try Win-Back offer for expired Trials:
When you launch your product, users may like your MVP product, but not pull the trigger on moving over to you. However, as you develop your product into a more fully featured solution, those initial prospects might be just ready to move over. So, SaaS providers send several emails to dormant trial accounts after a year, offer them another 30 days trail by highlighting what has changed in the meantime.
3. Sending the summary of "What has happened this week in your SaaS" via email
- Many SaaS products works day in and day out on your behalf. Depending on what your application does, you can send out emails highlighting the number of issues closed, the number of conversation tracked or leads generated,
4. Retargeting Customer Trials with Customer Success Content:
It is a powerful way to get your past clients get them come back to visit your website. Saas companies use retargeting to get back to their site so they can sign up. Alternatively, you can advertise customer success stories that highlight the type of value that people can expect to get from your product.
5. Offer an Onboarding Package:
Depends on your SaaS, your customer may need your service before they get started. Offering the onboarding package like"done for you" to new customers can be a way to smooth the path to success. Each optimization results in more customers using your product, more word of mouth referrals, and higher lifetime value.
6. Build a sticky SaaS Product:
SaaS should be a product that becomes part of someone's daily routine. Something they can't do as good or enjoyable a job without it. Something they need and love it. It's a kind of solution that includes a superior customer experience. Having a product that isn't sticky just means that you have a churn problem. Increase the stickiness by reducing the time to value. It is the velocity of the customer seeing the value of your product - how long does it take them to get to those ah-ha moments that make them see the benefit. So, it is important to think from a customer perspective.
7. Pricing Strategy for your Business:
For the SaaS business, you have to figure out the best price for your service. Different types of SaaS businesses use several types of pricing strategies. If you are starting new SaaS business, the best approach is to explore different pricing strategies used by others so that to position your pricing model to better appeal to your target audience.
1. Clear & Transparent Pricing:
Being completely transparent about your pricing and expenses can be a great way to stand out from the crowd.
2. Per User Pricing:
Charging per user is another pricing strategy you can use. It is suitable for SaaS that promotes team-based services.
3. Feature-Based Pricing Model:
Offering different pricing plans with access to more advanced features is the most popular strategy used by SaaS businesses.
4. Usage Based Pricing;
It is a pay as you go pricing is a strategy used by many SaaS businesses in the email marketing industry.
Choose the strategy that fits your business plan depending on the service or product that you offer. As a business, you need to evolve with technology and economy to sustain growth.